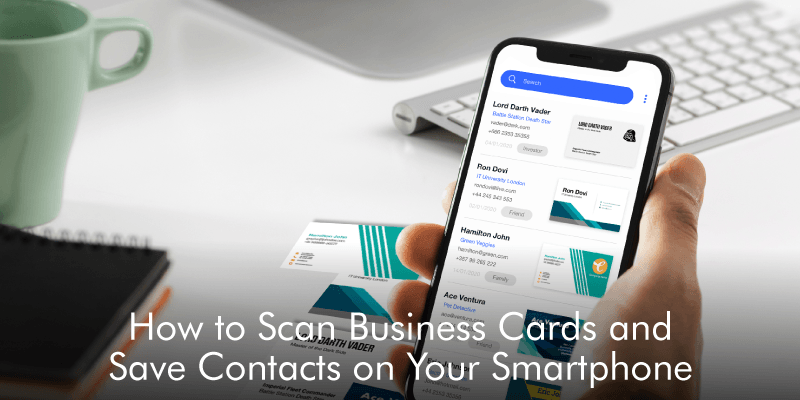 You are decluttering your office. You find several business cards of your prospects that you would wish to save on your phone. If it is one or two business cards, you can enter them manually on the phone. But what if there are many? You will need a better solution that saves time. This is where the business card scanner apps come in.
Business card scanners allow you to digitize business cards by simply taking a photo of the card, and it recognizes card details. Below are some solutions to digitize your business cards and save the contacts on your smartphone.
1. Use Covve Card Scanner
Covve Scan offers an easy way to scan business cards and save them to your phone. Through its AI-powered scanner, you can take photos of a paper business card, and it will recognize fields accurately in seconds. Your can then just add notes, labels and favorite any contacts you want.
Covve Scan, can also accurately recognize over 30 languages hence, you can scan business cards in different languages as well. Moreover, you can integrate it with CRM tools like Salesforce or SalesRabbit and manage your customer relations straight from your phone. If you want to further process your contacts outside the app, Covve Scan allows you to export contacts to Excel, Outlook or Google Contacts with just a tap of a button.
2. Use Hubspot Business Card Scanner

Hubspot also has a business card scanner for iOS and Android. Just like Covve scan, you need to take a photo of the business card and the scanner will auto recognize the fields immediately. You will then have the option to preview and confirm the entered data fields. After that, you will get all the Hubspot CRM features like organizing contacts, sending emails, doing email follow-ups and making calls.
3. Use ABBYY Business Card Reader

Another app that will come in handy is ABBYY Business Card Reader. It scans business cards in up to 25 different languages and the contact details are captured accurately. You can also verify contacts after scanning. Once you save the contacts, they will be stored in the cloud and synchronized across your devices so that you can access them anywhere.
4. Conclusion

As you have seen, business card scanners easily digitize business cards and allow you to access them anywhere. All the three apps mentioned above are available on the Play Store and App Store, and are perfect for saving you time and immortalizing your contacts.
Go smart and get yourself the AI-powered Covve Scan app by clicking on this link now!
Written on 22 Jul 2021.