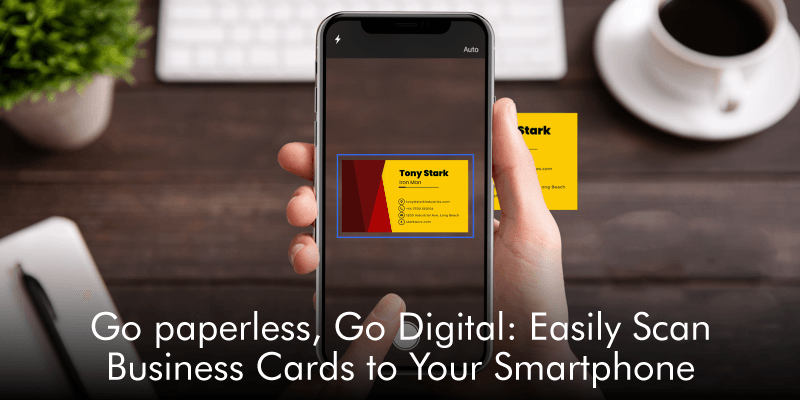 Sharing business cards is still a thing in an era where everything is going digital. However, you will notice that people are beginning to share digital business cards. The covid-19 pandemic has accelerated the shift to digital business cards because people are social distancing. Therefore, if you still have paper business cards, it is time to go digital, to stay safe and environmentally friendly. All you need is a business card reader app to scan them.
Now, let us look at three of the best business card scanner apps you can install on your smartphone:
Covve Scan
ABBYY Business Card Reader
Zoho CRM

Covve Scan is one of the most sought-after business card scanners for smartphones. To begin with, this AI-powered business card scanner is supported by both Android and iOS smartphones and is accurate in over 30 languages. On installing Covve Scan, you will scan your paper business cards, and all the details on the business card will be captured. The details auto captured include names, addresses, phone numbers, job titles, emails, and website. Covve Scan will then allow you to save the contacts, add tags and customized notes. You can also share the digital business cards with prospects via email, WhatsApp, LinkedIn, or any platform that allows you to attach images!
Moreover, Covve Scan can be used on its own or in combination with your CRM tool that enables you to manage your interactions with clients. Also, you can integrate your Salesforce or Sales Rabbit account so that you can manage all your customer relations on one platform! You can also backup your contacts on Excel, Gmail and Outlook by merely clicking on the "Export" button.
ABBYY Business Card Reader

ABBYY business card scanner is another useful scanner to have on your smartphone. You can scan business cards in over 25 languages, and the ABBY reader will capture the details correctly.
You can then manage your contacts by adding notes and setting reminders not to forget to call or text your clients. A great feature of this tool is that you can sync it with your Apple watch and call your contacts anywhere.
Zoho CRM

Zoho CRM app also comes in handy when you want to digitize the many business cards on your home office desk. With Zoho CRM, you just take the business card's photo, and all the appropriate fields of the contacts will be captured. You can also edit the text fields before saving the digital cards.
The beauty of Zoho CRM is that you can integrate with other apps Books, Invoice, Contact Manager, Mail, and CRM tools like Salesforce and Google contacts.

Wrap Up

The above business card scanner apps ensure that you can share business cards via smartphone during the pandemic and never miss out on a business opportunity! Download Covve Scan for Android or iOS now, and get scanning!
Updated on 15 Jul 2021.