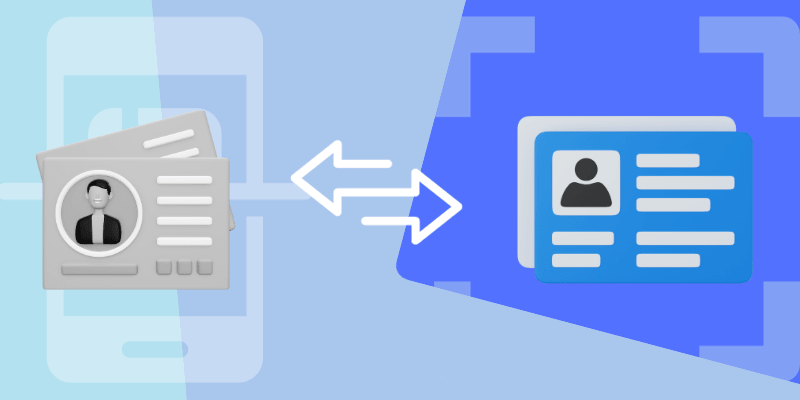 Ending a product's life is not a rare or sparse occurrence, however it is always shocking to the industry. In the card reading software market, one leading provider recently announced that it will discontinue support, new subscriptions, and in-app purchases for its FineReader PDF for Mobile and Business Card Reader for Android users, Text Grabber for both iOS and Android. 
The software company also noted that the Business Card Reader for iOS no longer supports syncing for scanned business cards, limiting its use and support for Apple users. If you haven't guessed it, ABBYY, the multinational software company specializing in optical character recognition (OCR), has discontinued support for its business card scanner app as of August 17th.
The ABBYY card scanner app for Android users was officially removed from the Google Play store as of the 18th of September, leaving users seeking alternatives. It is crucial to persist in networking endeavors. Adapting to new software and networking practices necessitates the selection of an alternative card scanner app to maintain established habits and workflows. 
Why Move From ABBYY to Covve?
In finding a suitable alternative to the discontinued ABBYY card scanner software, professionals can turn to existing comparisons and studies to find one that suits their needs. Capacitor Partners, a prominent firm specializing in digital transformation and product management, conducted a study in 2022 to evaluate cutting-edge card scanner apps on the market.
The research involved a comparison of features and functionalities among five card scanner apps, including ABBYY, BizConnect, CamCard, and Covve. While Covve's card scanner demonstrated superior efficiency, effectiveness, and user-friendliness, the other alternatives remain viable choices for individuals seeking networking solutions that align with their specific requirements.
The study highlighted that Covve offers a free trial of its card scanner and provides the option to purchase for expanded functionality within the application. Notable distinctions include Covve's ability to scan business cards with greater accuracy and speed, as opposed to other providers.
Furthermore, Covve offers quicker scan processing times and seamless integration with a broader suite of Covve tools, encompassing personal CRM and digital business card applications.
In settling with Covve, we have prepared a simple process to migrate your contacts from ABBYY to Covve, where you can also integrate your contacts with Covve's personal CRM for a more holistic, habit-building experience.
Migrating to Covve Personal CRM from ABBYY
The following steps include downloading the Covve personal CRM app, and an opportunity to reflect on your existing network. In ensuring that all contacts are successfully migrated and their information is found in the respective fields, you can take the time to assess your network and discover dormant relationships which may need to be rekindled. For that, Covve offers extensive workshops and masterclasses with experts from various sectors and backgrounds, offering their insights into how to build lasting relationships.
Let's go through a simple process of migrating contacts from ABBYY to Covve:
In ABBYY, look for an export or backup option. It may allow you to export your contacts and notes in a standardized format, such as CSV files or plain text such as HTML for notes
Import the data into your phone's contacts using Google or iCloud
Install and create an account with Covve's personal CRM tool
Contacts will be readily available within Covve
Continue scanning using Covve's personal CRM
It is important to note that images of the cards will not be exported, and some information exported from ABBYY may be lost in the process.
As stated above, it is imperative to continue managing and nurturing relationships to maintain both personal and career success in this vastly inter-connected world. ABBYY's discontinued software does not mean the end of your networking efforts. It is a new beginning. In the process of migrating contacts and their information to Covve, support is promptly available throughout to ensure a smooth and effective transition.
Contact Covve directly through our website, or find the help you may need in our FAQ's. We would be delighted for you to continue your networking journey with us.
Written on 20 Oct 2023.