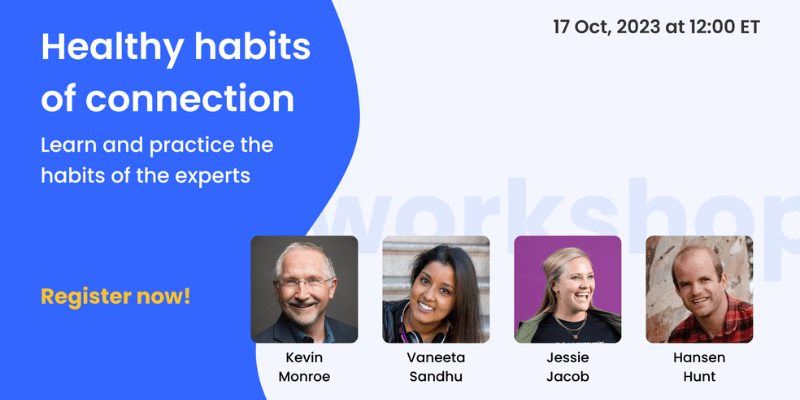 The world is moving at a rapid pace, impacting our relationships with others and causing them to feel superficial and taking a backseat to our busy lives. Covve recognizes the profound impact of authentic relationships and is excited to present our upcoming workshop "Healthy Habits of Connection in the Workplace – Learn & Practice the Habits of the Experts," on Tuesday, 17th of October from 12:00-13:00 (ET). The workshop will be spear-headed by our community lead, Hansent Hunt, who is emphatically passionate about building meaningful connections.
It is the second addition to a series of workshops which offer practical insights and opportunities to build meaningful relationships in an interactive format. This isn't just another online event; it's a unique opportunity to reshape your approach. 
On the backdrop of Dr. Vivek Murthy's statement in the US Surgeon General Report 2023 where he stated, "loneliness and isolation represent profound threats to our health and well-being", Covve, together with Hansen Hunt, aim to delve into what individuals and organizations can actively do to cultivate long-lasting relationships for both personal and professional networks.
Given today's heightened competitiveness, constant busyness is celebrated, potentially compromising the depth of our connections. Identifying and implementing systems, tools, and mindsets to navigate busy schedules and time constraints. This live workshop offers a departure from the ordinary, inviting you to embark on a journey towards more profound connections. It's more than just sharing knowledge; it's about fostering genuine, enriching relationships.
What Awaits You in This Workshop
You will have the opportunity to connect with industry experts like-minded individuals who share your passion for bringing people together, whether in your personal life or your professional endeavors. The live seminar and breakout rooms are designed to be interactive and hands-on, focusing on active participation and gaining practical experience that you can put into practice right away.
Our panel comprises industry experts and thought leaders: Kevin Monroe, Dr. Vaneeta Sandhu, and Jessie Jacob, each bringing extensive experience in fostering gratitude, emotional fitness, and community engagement.
Kevin Monroe, a seasoned expert with over 45 years of experience, is globally recognized for his work in creating cultures of gratitude and human connection. His sustainable gratitude practices can enrich both personal and professional lives.
Dr. Vaneeta Sandhu, Head of Emotional Fitness and Operations at Coa, brings over a decade of experience to the table, specializing in principles of behavior change and prioritizing mental health through emotional fitness.
Jessie Jacob, the Senior Community Engagement Manager at Culture Amp, transforms ordinary networking events into opportunities for reimagining and improving our professional lives.
Covve is dedicated not only to providing tools for healthier networking habits but also to sharing the wisdom and best practices of experts to enrich your journey in building meaningful relationships. Join us and unlock the power of healthy workplace connections together.Discover new relationship building insights and join us on the 17th of October.
Updated on 06 Oct 2023.