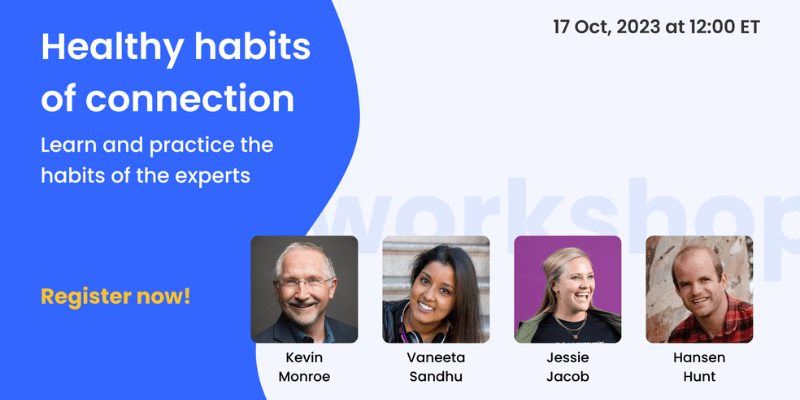 Our upcoming workshop, "Healthy Habits of Connection in the Workplace – Learn & Practice the Habits of the Experts," promises an enlightening and transformative experience, taking place on Tuesday, 17th of October from 12:00 – 13:00 (ET), led and moderated by Hansen Hunt who shares our passion in helping people cultivate authentic relationships.
Join us and connect with people who share a passion for being bridges and connectors, helping others build relationships. Gain practical insights on the habits of experts in relationship building, and engage with like-minded people to practice the lessons being shared. We are thrilled to introduce you to the experts who will be guiding these discussions.
Kevin Monroe, a seasoned expert with over 45 years of experience, is globally recognized for his work in fostering gratitude and positive change. His mission to create cultures of gratitude and human connection has made him a sought-after consultant for leading organizations like AWS, Pfizer, and PepsiCo. 
Kevin is also the creator of The Grateful App, an accessible tool grounded in neuroscience and positive psychology. Known for his infectious optimism, Kevin empowers individuals and teams to develop sustainable gratitude practices, enriching both personal and professional lives.
Dr. Vaneeta Sandhu, Head of Emotional Fitness and Operations at Coa, brings over a decade of experience to the table. With a background in clinical psychology and facilitation, she has worked with prominent companies such as Lyft, Yelp, Twitter, Reddit, and Dropbox, assisting managers and executives in developing essential leadership skills. Dr. Sandhu specializes in principles of behavior change, interpersonal dynamics, and adult learning, offering guidance on prioritizing mental health through emotional fitness.
Jessie Jacobs, the Senior Community Engagement Manager at Culture Amp, is a seasoned event and experience designer with a flair for fostering meaningful connections. She spearheads a thriving network of over 100 Culture First Global Chapters exceeding 10,000 members, transforming ordinary networking events into opportunities for reimagining and improving our professional lives. 
With a diverse background spanning venture-backed startups, fintech communities, and innovation consulting, Jessie possesses the expertise to guide individuals and organizations toward building meaningful connections.
These remarkable expert will be sharing their unique insights, experiences, and practical advice during our workshop. Join us for this exclusive opportunity to learn from the best and revolutionize your approach to connection-building. Get ready to embark on a journey towards healthier, more meaningful connections in your workplace and beyond.
Register for free, and unlock new heights in relationship building.
Written on 10 Oct 2023.