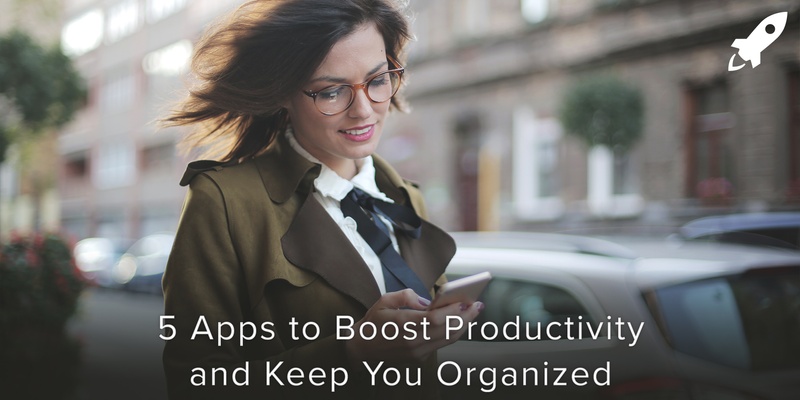 Every day when you wake up, the aim is to get more work done! Productivity is something that we all want to achieve, it is the "how" that we need to crack.
Staying on track and organized when you have an endless to-do list can be a struggle. It is easy to feel overwhelmed, clustered and confused as all your information is scattered across different contacts, emails, notebooks, and other online tools.
Fortunately, technology could be of great help in simplifying the chaos and helping in boosting productivity, and keeping you organized.
Here are some applications that can help you manage your contacts, time, work, tasks, etc. to increase productivity.
Devices it works on: iOS & Android
Keeping track of all your business contacts can be incredibly difficult sometimes. This is the major reason why you would need help from a great address book app.
Nowadays, contact management is extremely important. Everything revolves around contacts and networking.  Many times, we miss out on opportunities as we forget to save contacts or follow up with people we have spoken to previously.
Covve is an AI-powered simple and smart contact management / personal CRM application. What can it do:
It can help you keep your own relationships on top of your priorities by always having the right information at your fingertips.
Covve has a contact-centric approach that helps you focus on people and not deals.
It helps you create your own digital business card and share it at a tap of a button.
Covve automates reminders and lets you know when it is the right time to reach out. It helps you get organized with a personalized call schedule.
Covve is the ultimate solution to manage contacts and to stay in touch with people. To download Covve for free, click here!
2. Evernote
Devices it works on: iOS & Android
Evernote is a very useful note-taking cross-platform service.
What can it do :
Users can upload notes, pictures, audio, and videos, and can also organize them into different notebooks.
Offline notes are also available so that you can access them at any time, anywhere, without an internet connection.
These notebooks can be shared across several devices.
3. Microsoft To Do
Devices it works on: iOS, Mac OS, Windows 10, web browser & Android
Use the Microsoft To-Do application on your smartphone, tablet, and computers as a task management helper. It is a cloud-based app that allows users to manage their tasks.
What can it do:
Task prioritization and scheduling. You can create main tasks and subtasks to help you keep track of the intricacies of anything you're working towards accomplishing.
File sharing. Microsoft To-Do has a file upload feature, and also offers users the option to share each task with other app users.
4. Momento
The devices it works on: iOS
Momento is a private smart journal that continually stays up to date. It allows you to collect and capture different moments that you can explore, and share.
What can it do:
Always up-to-date: It is difficult to keep a journal every day. Momento fills in the blank spaces automatically collecting data from your social networks and apps; Facebook, Instagram, Twitter, Uber, etc.
Provides day, month, and year summaries.
Tags the people you go out with along with the place.
5. Trello
Devices it works on: iOS & Android
Trello is a customizable digital bulletin board that organizes and prioritizes your project in a flexible, and rewarding way. What else can it do:
Allows you to work with any team. May that be for work or a side project or even a family event. Trello lets you be organized.
You are able to create different lists, that are dynamic containers that can be filled with cards.
You can share these thoughts and tasks with other users. Trello also allows you to design cards, assign tasks, and add comments.
These were the top 5 apps that can help boost your productivity and keep you organized!
Do let us know when you have found the best fit for yourself and feel free to share any productivity tips you may have!
Updated on 06 May 2021.