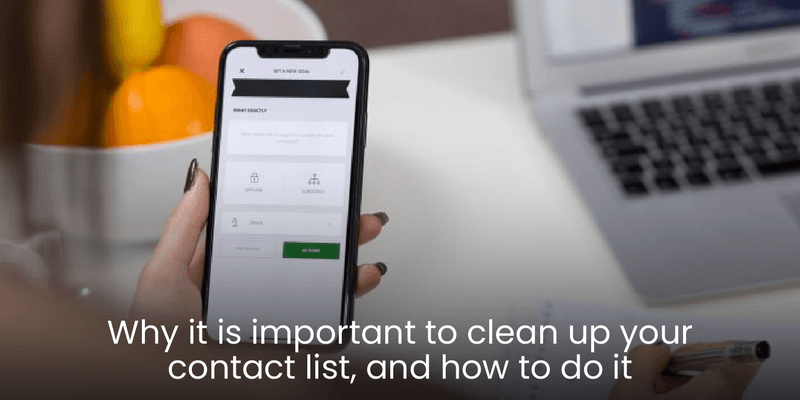 Proper management of contacts is a recipe for effective client marketing. Myriads of business owners and marketing personnel are investing in contact management because they have a crystal clear picture of its importance. If you need a smooth way to send marketing emails or relevant content to your contacts list, you need to clean up your contacts. Fortunately, this article takes you through a complete guide on the importance of cleaning up your contact list and how to do it.
Why is it important to Clean up your contact list?

Before you board the contact list cleanup ship, the first step is to ask yourself whether you really need it. Yes, duplicated and inaccurate contacts can make your contact list quite chaotic. Accessing disorganized or messy contacts wastes both time and energy. This negatively impacts how you view and send content to your contact list. In a nutshell, your productivity level decreases, and you fail to manage your clients effectively.

How to clean up your contact list
There are several plausible ways to clean up your contact list and improve your contact management. Some of the seamless yet effective ways include:

Delete Duplicate Contacts
It is not surprising to have duplicate contacts in your contact list. These contacts eat up unnecessary memory space and slow down your device. Identify duplicate contacts in your contact list, then manually delete them to free device space and bring contact coherence.

Disable Unnecessary Account Syncs
You cannot avoid using services like iCloud, email, or Microsoft Exchange on your device. However, syncing your accounts to these services automatically downloads associated information, including contacts. Simply disable or turn off syncing to minimize duplicate contacts and clean up your contact list.

Use device Cleanup App
Manually deleting unwanted or duplicate contacts to clean up your contact list is tiresome, time-wasting, and ineffective. However, a cleanup app makes everything seamless. It automatically identifies and deletes duplicate and unwanted contacts in your contact list. The good thing with this app is that it gives you more control and features to get the best contact cleanup experience.
After cleaning up your contact list, the next crucial assignment is contact management. You need to organize your contacts to improve your relationships with clients and boost your productivity. The good news is that you have the best contact management tool, Covve App. This program lets you set organize and label your contacts as preferred. You can mark as clients, prospects, staff, or friends. You can also add some notes to a contact so that you can know what you talked about in your previous call when you want to make the next call in future.

Wrapping Up

Cleaning up your contacts is a sure way to avoid messy contact lists. You can leverage the methods we have discussed and get your contacts in order.
Want to take your contacts management to the next level? The Covve App will get you organized and make sure you stay in touch with your network. With smart reminders to get in touch and easy tools to keep notes on each person, you'll never mess up your CRM game!
Get your very own personal CRM, download Covve today


Related Posts: