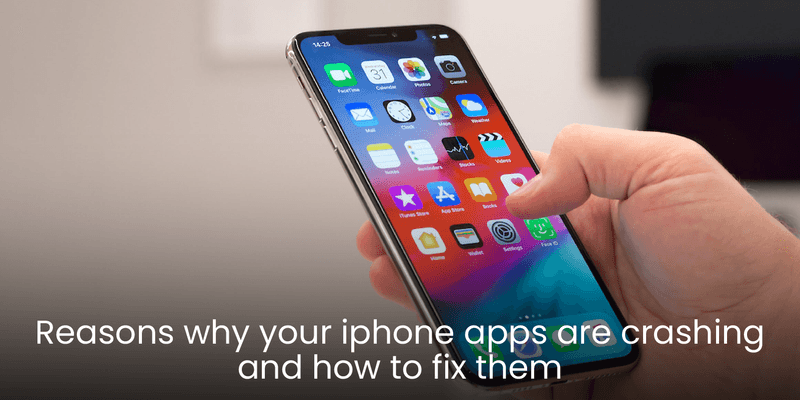 Although iPhone is a top-notch mobile device, it is not immune to faults. Recently, many users have been ringing bells regarding iPhone apps crashing. Well, an app crash may happen immediately after you launch the app or at any time you are using the app. Irrespective of when and how, the inconveniences caused by iPhone app crash is something every iPhone users wants to run away from. But since it is becoming a common occurrence, you need to understand the genesis and respective solutions highlighted in this article.
Causes of iPhone App Crash
There are several triggers of iPhone apps crashing with varying frequencies. However, some of the popular causes include:
Low device memory.
Network issues.
Device incompatibility problems.
Software issues such as outdated software.
How to fix iPhone apps Crashing Issues
Now that you are familiar with some of the popular causes of iPhone apps crashing, it is important to dive into some of the proper fixes. The following are some of the plausible fixes for iPhone apps crashing issues.
Update your iPhone Apps
If your iPhone apps are out-of-date, then this might be the reason for frequent app crashes. The best solution here is to update your applications to the latest versions. The good news is that this is a seamless process. Simply go to App Store and choose your Account icon. Scroll down, and you will see the list of apps that need updates. You can decide to update them one by one or update them all at once.
Update your iPhone
If your iPhone software is outdated, it can trigger app crashes on your iPhone. Therefore, the best remedy is to update your iPhone software. Simply navigate to Settings>General>Software Update>Download and Install/Install Now. If updates are not available, you will see the notification that "Your software is up to date".
Reboot your device
This is easily the first resort to scores of people, yet it proves helpful. Rebooting your device helps to cure unexpected software glitches. Different iPhones will have different reboot procedures. Check the right reboot procedure for your iPhone model, then pull a trigger.
Reinstall Crashing Apps
Perhaps the crashing apps were not installed properly or had software glitches. One of the best solutions is to reinstall them. Simply delete the problematic apps, then install them fresh from the App Store.
With the iPhone apps crashing problem fixed, you now need to think about how you can use your iPhone to create networks for your business. The best bet is to install the right CRM tool on your iPhone. Fortunately, Covve is the best relationship management tool for you. It allows you to set reminders on when to call your customers. After making a call, you can also make notes of what you discussed so that you don't forget details needed from each customer.
Final Thoughts
iPhone app crashing is not a new thing. It is good that you now know the causes and respective solutions.
Want to take your contacts management to the next level? The Covve App will get you organized and make sure you stay in touch with your network. With smart reminders to get in touch and easy tools to keep notes on each person, you'll never mess up your CRM game!
Get your very own personal CRM, download Covve today.
Related Posts: