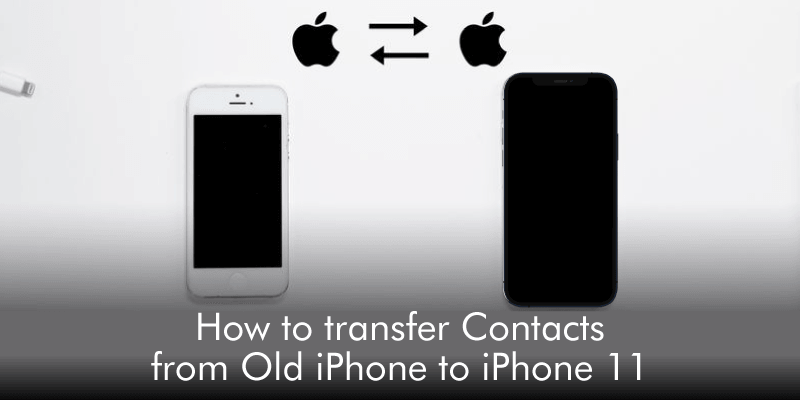 While switching or upgrading to a new iPhone the first thing you might have to do is transfer important information. Especially, contacts from your old iPhone to your new iPhone.
Here are 3 methods to transfer contacts from your old iPhone to iPhone 11 easily and quickly. Just follow the steps below and you can without any hassle transfer contacts!
Method 1: Transfer iPhone contacts with iCloud syncing
Step 1 – Connect your old iPhone and iPhone 11 with Wi-Fi network
Step 2 – Log in with the same Apple ID on your two iPhones.
Step 3 – Go to settings (refer to image 1)
Step 4 – Tap on your Apple ID's profile part (as shown in image 2)
Step 5 – Click iCloud (refer to image 3)
Step 6 – Select Contacts ( as shown in image 4 )
Step 7 – Tap on it to turn it on.
Step 8 – Select Merge when you are asked "What would you like to do with existing local contacts on your iPhone".
Step 9 – Wait for the contacts on your old iPhone syncing to iPhone 11.
Method 2: Transfer Contacts to New iPhone by Restoring an iCloud Backup
In case, you have backed up your contacts on iCloud, then you can transfer the contacts to your iPhone by restoring from the iCloud backup you made before.
Follow these steps to complete the restoration process :
Step 1 – Start by making a backup of your old iPhone. Go to Settings (Image 1) > Click on the apple Id (image 2)  > tap on iCloud (image 3)
Step 2 – Tap iCloud Backup (as shown below in image 5)
Step 3 –  Turn on "iCloud Backup" if it is closed > Tap on Back Up Now.
Step 4 – Now, go to Settings on your iPhone 11 > General (as shown in image 6)
Step 5 – Tap on Reset ( refer to image 7)
Step 6 – Erase All Content and Settings (as shown in Image 8) > Erase iPhone.
Step 7 – Set up your iPhone 11 until you access the Apps & Data screen and choose to Restore from iCloud > Select the backup you just created (shown in image 9).
That's it! iCloud will backup your contacts. Now, contacts will be restored from your old iPhone to your iPhone 11!
How you can manage contacts on iPhone 11
There are various methods to transfer contacts such as through AirDrop or iTunes. But the 2 methods mentioned above eliminate the potential issue of duplicates or single transfer of contacts which is very tedious!
To manage and organise your contacts on your iPhone download Covve, the simplest address book app. 
Bonus: Export contacts and pictures from iPhone
Did you know that Covve created an app to help you eaily export contacts and pictures from your iPhone at a tap of a button? Export contacts by Covve is the easiest way to export your iPhone contacts in excel-compatible format. Download it on your iOS device now!
Updated on 18 May 2021.