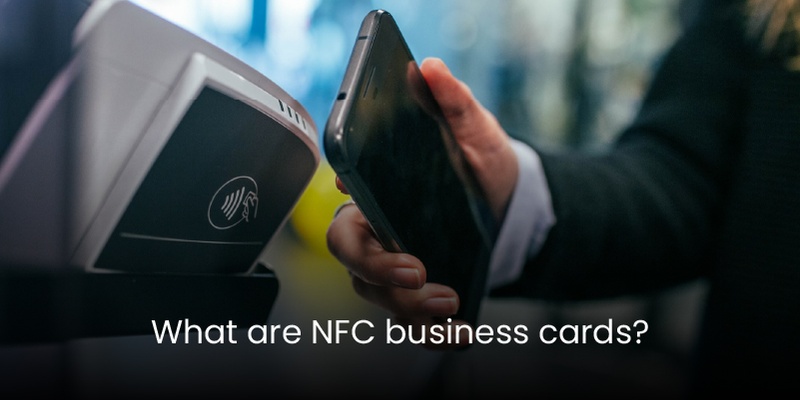 Business cards have shaped how business owners communicate with their clients, from traditional printed cards to state-of-the-art electronic cards, and now, NFC business cards are the talk of the town. If you are new to NFC cards and wondering what they are, go through this article and get a clear explanation of NFC business cards.
What are NFC Business Cards?
NFC is an acronym for Near Field Communication. NFC is a wireless technology that uses radio frequency to communicate with devices within 4 cm or less. Therefore, NFC business cards are a type of business card that communicates with a device, often a smartphone, within proximity. These cards are used to direct clients to your business information like your website page of choice, portfolio, or registration forms, tap to call, text, and download an app.
An NFC business card has a chip installed inside it to send information to the device within the range. The chip has a low memory size and only holds a small amount of information. NFC business cards often require an NFC app. This app allows you to program the card and change it as much as you like to fit your needs. The good thing is that you don't have to be tech-savvy.
Programming your NFC business card lets you control what information you want people to see. You can program it even after you have handed it out to people, and hence you don't have to worry about recalling for changes or reprinting other cards with different information.
How to use NFC Business Card
As aforementioned, NFC business cards use wireless technology to communicate with a device in close range. The following steps illustrate how to use an NFC card to transfer contacts.
Step 1. Get the NFC business card and place it within the range of the NFC-compatible phone. You can place it at the bottom of the smartphone.
Step 2. When the NFC card is detected, the programmed action will display on the smartphone. In this case, the contacts saved in the NFC card will automatically transfer to your smartphone.
Wrapping Up
Are you considering migrating to an NFC Business Card? Then look no further! Covve offers you the business card of the future with the ability to customize it to match the character of your company. Order your business card from Covve and enjoy the benefits of the NFC technology.
Written on 10 Feb 2022.