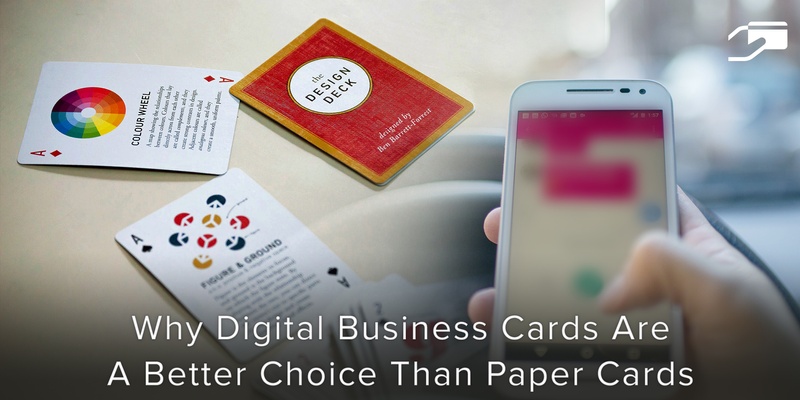 When it comes to the debate between Digital Business Cards vs Paper Business Cards, we can be sure that both sides have good arguments to make. Fundamentally, both types of cards serve the same purpose — they help you create business opportunities and grow and leverage your network.
But digital business cards have a significant advantage over paper business cards. In this article, we will look at why you should choose electronic business cards over paper business cards.
We have to say this outright — we believe that with the COVID-19 pandemic, paper business cards might be on their way out and electronic business cards are going to see mass adoption. After all, everyone is shifting from handshakes to other forms of greeting that do not involve touch. So it won't be surprising to see this happen with business cards as well. That said, let's dive in.
The Problems With Paper Business Cards
Expensive to design and print
You need to invest money hiring a professional designer to design your paper business card. Unless you are okay with a simple design, a good design will be expensive. If you want to redesign it, you will have to pay the designer again. And then you need to invest more money in printing it. If you are looking to save money wherever you can, this will be a problem.
Carrying them around is a hassle
You can only carry so many paper business cards with you at a time. And carrying them around itself is a pain. They occupy a lot of space in your pocket or wallet. If you keep them in your bag or briefcase, you will take time to fish them out when needed. And if you are taking paper business cards from others, you will be overwhelmed by the number of cards eventually and they will mostly end up forgotten in some corner of your bag.
Let's admit it — most of us save the contact information from a business card and then simply throw it out. Studies have shown that over 88% of paper cards are thrown out within a week! Not only is this a waste of the resources of the person who gave you the card, it's also bad for the environment.
The Advantages Of Electronic Business Cards
Easy to create, edit and share
Electronic business cards exist virtually — which means that they are accessible to anyone with a smartphone. If you don't have your electronic business card yet, you can create one in seconds using an app like Covve Scan. You will never run out of copies.
You can edit your card in seconds and share it with anyone via email, social media, text [SMS], and other means in less than a second! You don't even have to make physical contact with someone to share your card — in a world that is in the grip of COVID-19, this is the biggest advantage.
When you share a digital business card, you are making a style statement. You are saying that you are up to date with current trends and this will make you stand out from the crowd.
As we mentioned in the introduction, the reality of COVID-19 pushes people to adopt behaviours that minimise contact. This one factor gives digital business cards a massive advantage over paper business cards.
More comprehensive information
You are not limited by space on a virtual business card and you can store as much information on it as you want to. You can add information about your past work, the honors and awards you have received and much more.
Simplified contact management
If you are someone who goes to a lot of business events or trade shows, then maintaining a database of digital business cards is a much smarter move than having a ton of paper business cards to carry around. When someone offers you their business card, you can simply take out your phone and scan it using an app like Covve Scan, which automatically saves the contact information and stores it on your phone. You can even go back and edit the information later if needed.
Major cost and space savings
You can customise and edit the information on your digital business cards any number of times and you won't have to shell out money redesigning the card or printing out new copies. You will also never run out of copies because there is literally no limit to the number of copies you have of your card. What's more? You don't have to stuff your wallet or briefcase with business cards anymore!
The most obvious and important benefit of digital business cards is that they are good for the environment. Or rather, they simply avoid the cost that paper business cards have — which, as we have already seen, mostly get thrown out within a week.
At a time when physical interaction is viewed with skepticism, we leapfrog to a contactless world. Create and share your own digital business card today with Covve. Among other amazing features, the business card maker allows you to easily create top notch digital cards, customized to your personal or company brand.
Download Covve for free here:
Updated on 8 July 2020.
Updated on 08 Jul 2020.